---
VinWizard™ is internationally recognized as a leader in the provision of tank temperature control and winery automation.  Unique modular systems help winemakers precisely manage wine ferments and all other aspects of the operation from any location or mobile device.
VinWizard™ technology allows you to easily and affordably interface to any winery component. This allows winemakers and maintenance staff to view and/or control all aspects of the operation from any location via one interface. This includes pump-over, stirrer, crusher pad automation, humidity, CO2, water usage, and must lines, plant rooms, Production Database, etc.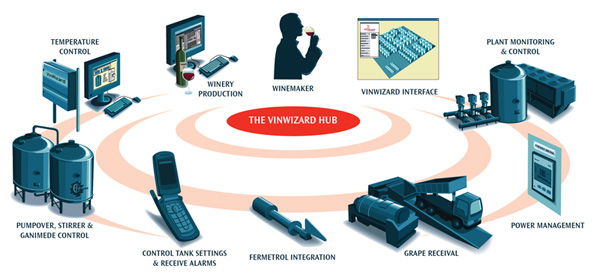 Overview
Brochures
Testimonials
Standard Features

VinWizard Interface - Remotely accessible, graphical, interface that communicates the winemaker's requirements to the hub which in turn controls all the VinWizard modules.


Plant Monitoring & Control - Integrates to the refrigeration system, pumps, must lines, air compressors, coolant tanks etc., and raises alarms when required.



Fermetrol Integration - Continuous on-line graphic representation of the ferment 'rate of change' (sugar/alcohol levels).  Automate tank temperature control based on this info to meet winemaker's rate of change requirement.



Grape Receival - Automate the collection and reporting of grape receival information through, to controlling the flow of must to the presses, dosing the juice, printing delivery dockets etc.



Power Management - A more efficient usage of winery infrastructure is possible as a result of VinWizard communicating with all aspects of the operation from the winery production system through to tanks, chiller units, pumps, must lines, etc.



Control Tank Settings & Receive Alarms - Request current tank or plant status via SMS messaging and respond with change requests (e.g change setpoint). Also receive tank and plant alarms.



Pumpover, Stirrer & Ganimede Control - enables the winemaker to monitor and control the pumpover, stirrer, sweep arm fermenters and Ganimede tanks via the VinWizard interface.



Temperature Control - This module delivers reliable, accurate and innovative tank temperature control functionality. Can be configured with or without our preferred air control tank valves.



Winery Production -Third party software packages that are able to interact with the hub are integrated into the VinWizard system to further enhance the winemakers control and understanding of the winery.



Winemaker - Whether at work, at home or overseas, the winemaker has total visibility and control of the winery in addition to anytime/anywhere alarm notification.
| | |
| --- | --- |
| | PDF Brochures |
Salena Estate: Loxton - South Australia
"Salena Estate Wines is impressed with the energy efficiency VinWizard has offered since installing the system. Because of the accuracy that VinWizard provides, we have been able to add another 50 tanks over the past two years. The cost savings and increase in energy efficiency have been "black and white". The system has paid for itself over the first vintage. VinWizard's pumpover support program has seen incredible savings in human resources as it eliminated the need for the nine staff Selena Estate required to undertake the pumpover across three shifts per day." – Chris Grigoriiou: General Mananger
Arkenstone Vineyards: Howell Mountain, Napa, California
"The reason that I decided to use the VinWizard control system was the fact that it has phenomenal controls. It uses a method of control that no other wineries in the Napa Valley are using. I'm able to see my tank temperatures and control my tanks and control my pumpovers from virtually anywhere in the world. It's all about peace of mind. That is one of the main reasons why I went with VinWizard was for peace of mind. It's great, great technology." – Sam Kaplan: Senior Winemaker
St. Hallets: Barossa Valley –  South Australia
St. Hallets is processing approximately 3,000 tons annually and began using the load scheduling module in 2011. Prior to this, power consumption was significantly higher with maximum demand peaks of 500KVA. VinWizard load scheduling has allowed the winery to shift power consumption from the hot day hours to the cooler evening hours. This methodology yields less total KW used and each KW costs less at night. This coupled with some system modifications in the refrigeration plant have resulted in 50% reduction in maximum demand and major power savings estimated to be in the range of 25-35%.