---
We are pleased to announce our Latest News & Products:


We look forward to seeing you at the next annual national or trade show!
2019 – WIVI Central Coast Wine Industry Conference
Paso Robles Event Center / 2198 Riverside Ave, Paso Robles, CA 93446
P&L Specialties / Tom Beard Co / Revolution Equipment Sales – Booth tba
www.WiViCentralCoast.com
VinWizard™ Temerature & Process Control

VinWizard™ technology also allows you to easily and affordably interface to any winery component. This allows winemakers and maintenance staff to view and/or control all aspects of the operation from any location via one interface. Stay in control of your entire production.
read more...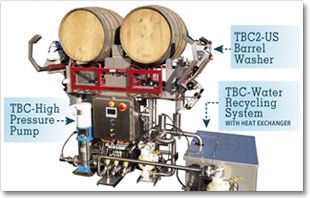 To help all clients in reducing water use, Tom Beard Company is providing new services and water-saving retrofits to help greatly reduce water usage for barrel washing.
read more...
The Tom Beard Company  Receives Official "Bay Area Green Business" Certification!

The Bay Area Green Business Program distinguishes small businesses that protect, preserve and sustain our environment.
Their partnership of environmental agencies and utilities assists, offers incentives, and verifies that participating businesses conserve energy and water, minimize waste, prevent pollution, and shrink their carbon footprints.
Read more...
Half-Ton & 1 Ton Bin Washing System

The Tom Beard Company has developed a ½ ton bin washing system and applied for a US Patent. The unique system is fully automated and designed to thoroughly clean the bins inside and out. Like all of the Tom Beard products it is designed to operate on a minimum of water and generate a minimum of waste water. The design collects the solid material for easy disposal ensuring they don't end up in the drainage system. The creative design provides a cost effective solution to manually washing bins, freeing up manpower, and saving water.
Read more...
Tom Beard Company & P&L Specialties Join Forces!
A North Bay Business Journal article announces that winery crushpad equipment maker P&L Specialties is moving further into the winemaking process with the acquisition of Tom Beard Co., the top manufacturer of automated oak barrel washers.
Read more...
The Tom Beard Company Now Accepts Credit Cards
For added ease and convenience we are now accepting Visa, Master Card, American Express, & Discover cards.
Expanded Parts & Service Department:
Call 707-573-3150 or email
parts@tombeard.com
now to satisfy your parts and service needs.
New Partners:
The Tom Beard Company is thrilled to have Hans W Schloss S.P.C. as our exclusive South American distribution agent.
In Our Community:
The Tom Beard Company and its employees are dedicated to making a difference where we can and are committed to ensuring that our community is better for our existence in it. The Tom Beard Company was pleased to support the
Sunrise Horse Rescue
in St. Helena California, the
Northern California Leukemia and Lymphoma Society
, as well as the
Redwood Empire Food Bank
this holiday season.
Our employees serve the local community on several boards and advisory committees: Sonoma County Workforce Investment Board, Sonoma County Youth Council, Sonoma County Probation Camp, and 101 MFG. We also support the local youth as soccer coaches, football coaches, basketball coaches, boosters and many other ways. We value where we live and want to do our best to help.